Thank you to the Committee and Officers of the Belgian Griffon, Papillon and Phalene Club for the kind invitation to judge their speciality.  The show venue was excellent.  There was a large well laid out ring with surround seating set well back for spectators to watch from.  The hall was beautifully decorated for Christmas, with red carpet, fairy lights and glittered cyclamen over all the tables.
My partner and I were so well looked after by the Committee, especially the Chairperson Mrs Liliane De Ridder Onghena who continually ensured we had anything we needed.  We had a lovely lunch in the excellent dining facilities available.  My day was made so much easier with my very professional ring stewards Conny Goossens and Andre Steegmans, who made the ring procedures flow so smoothly.
The prizes were extremely generous for the exhibitors, as they included dog food from the sponsor, dog beds, toys, bowls etc.  I would also like to thank the Committee for the beautiful personalized gifts which I will enjoy wearing on future appointments.
I would like to thank also the exhibitors for their entries and supporting manner in which they accepted my grading's and decisions.  There were some beautiful dogs shown and I feel very privileged to have been able to judge them, especially since some had traveled quite the distance to show under me.
My Best In Show placings were as follows:
| | |
| --- | --- |
| BIS 1 | Papillon |
| BIS 2 | Griffon Belge |
| BIS 3 | Phalène |
| BIS 4 | Petit Brabançon |
| BIS 5 | Griffon Bruxellois |
With regards to the quality of the dogs, I was very pleased with the overall quality.  There didn't seem to be any issues at all with movement in relation to patella etc, which is a great achievement since it is known to be common in many Toy breeds.  Another issue I was very pleased with was the mouths.  Many of the dogs had excellent mouths with the desired bites.  A few had slightly open bites, but for me this is not a huge issue compared to incorrect bite such as undershot or overshot etc.
Presentation was very impressive.  Most of the dogs were expertly groomed to aid in their overall profile.  The Griffons were expertly stripped / trimmed accentuating their shape and breed attributes.  Whilst the Papillon and Phalenes were ''snow white'' with no staining at all and with beautiful silky coats.
A few seemed nervous or shy.  This could be for a number of reasons such as a scare, lack of socialization, hormonal etc.  One thing I would stress, is please work on these dogs.  Quite a few were lovely examples of their breed, but couldn't go further due to the inability to show to advantage.  I am speaking from first-hand experience, that with perseverance these dogs can recover and not only show, but claim their Championship status.
Another issue I would like to raise is size.  Please remember that size must be taken into consideration.  It is no shock that I am a huge fan of the Toy breeds but size must play a part.  I will always choose a larger sound dog over a small sized counterpart which isn't sound, but please try and stay mid-way in regards to sizing.  Too large specimens then become coarse losing out on the much required refinement a Toy should have.  There were some beautiful dogs both at the high end of the scale, and others at the extreme lower end.  Toy breeds are small and therefore, shouldn't be of a large stature and the same applies for the very small individuals, as beautiful as they are, please try and improve on their size, as too small no matter how pretty they are, can result in incorrect movement due to lack of size to stride out.
I would like to give a short account of the major winners.  Although each exhibit was given a critique I feel that a short synopsis would be a fitting touch to end the report.
Best In Show 1
A stunning Tricolour Papillon which perfect coat markings.  His head markings were completely symmetrical, whilst his coat was of the desired preference of predominantly white with black patches.  Although still a young dog, and not fully mature he has the most amazing silky coat which was presented immaculately.  When this boy moved, ever hair on his body moved like a hair and beauty commercial, again highlighting the effort put in to maintain this fantastic show condition.  He had substance, yet remained dainty and elegant on the move.  Never taking his eyes off his handler the whole time.  This attribute along with his true breed type and structure ensure he could not be denied Best In Show.
Best In Show 2
A beautiful Black Griffon Belge with a gleaming black coat which was presented so professionally and playing to his assets so well.  Again, another that is not fully mature yet but that will be a force to recon with when he does.  His head was so beautiful.  Cheeky expression with an air of arrogance in his expression.  His rounded head complimented wonderfully with his beautiful facial features made his so appealing.  Another who covered the ground so well and kept that beautiful square profile on the move and standing.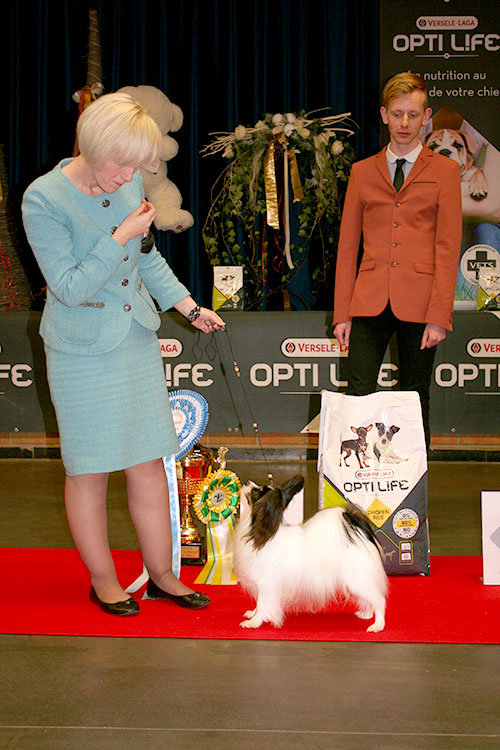 Once again I would like to thank all those involved in making this show such a successful and happy day and I would like to wish both the Officers and Committee along with all the exhibitors a very successful 2019 show season.
Judge Mr. Gordon Gault (IRE).